Studio with Sea View
Santorini Accommodation – Studio with Sea View
2 Persons
1 Double Bed
Sea, Caldera & Volcano View
30 sq. m.
Tranquility whispers on the gentle breeze as you step into your private retreat, the Sea View Studio at Nikos Villas in picturesque Oia, Santorini. This exquisite Santorini accommodation combines sophisticated design with the natural beauty of the Aegean's glistening waters, the Caldera's majestic cliffs, and the volcanic heart of the island, all within the refined atmosphere of your air-conditioned sanctuary.
Spanning 30 square meters (30 m²), this alluring Santorini accommodation features a double bed, promising restful slumber swathed in crisp linens and pillows. Enjoy a moment of respite in the cozy living area, where a chic sofa invites relaxation and an intimate table for two entices with the promise of leisurely conversations. Additionally, a convenient kitchenette allows you to effortlessly prepare your favorite beverages or light snacks.
Your sanctuary's crowning feature awaits just beyond the doors: a charming balcony or patio adorned with delicate flora, where you'll find the perfect setting for sipping a revitalizing beverage or indulging in a tantalizing cocktail. As the sun sets below the horizon, immerse yourself in the captivating panorama of the Caldera's ethereal beauty and Oia's quaint charm.
With seamless access to Nikos Villas' sparkling pool, a world of rejuvenation lies at your fingertips. Immerse yourself in the serene waters, feeling the warm sun dance upon your skin as the soothing sounds of nature wash your worries away.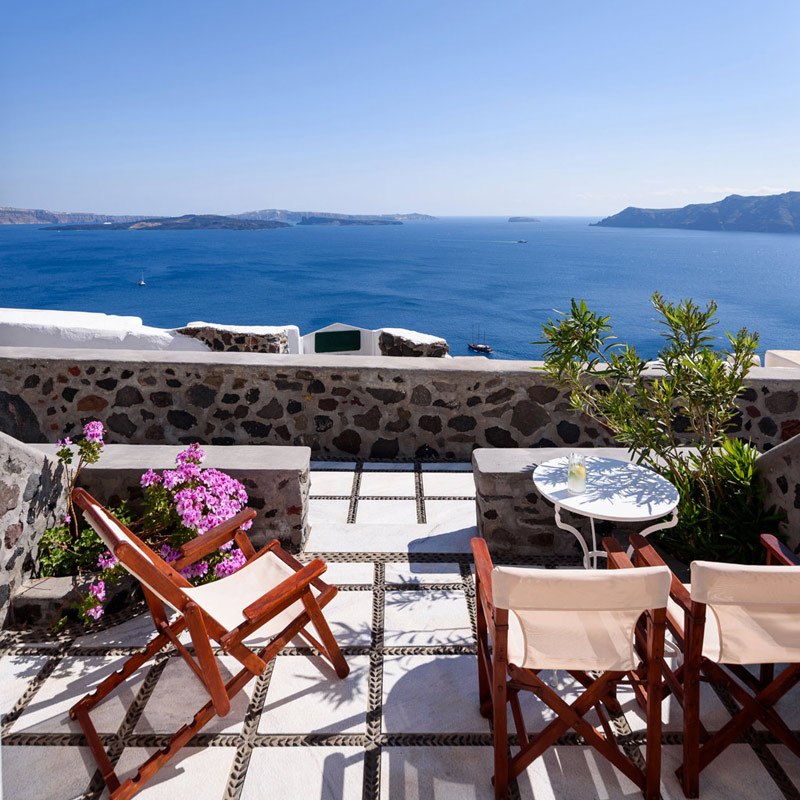 Facilities & Amenities
Individually controlled Air Condition
Private bath
Kitchen with a fridge
Satellite TV
Wi-Fi internet access
Phone
Hair dryer
Heating
Safe Deposit Box
Bathrobes & slippers
Bathroom amenities
Daily maid service